Food & Drinks
Full window height
Get your fizz on
Hotel Julien serves light meals and finger food throughout the day and in the evening. Our menu offers homemade food prepared with the freshest of ingredients. Please note that our breakfast lounge, bar and rooftop terrace are not exclusive to our hotel guests and that we happily welcome guests from outside the hotel to enjoy our services.
Discover our Breakfast menu
Discover our Light Meals menu
Discover our Bar menu
Breakfast lounge, bar and rooftop terrace are open to non-hotel guests as well.
White
Come and unwind
Enjoy a delicious cocktail before dinner in our bar, lounge with the daily papers by the open fire or enjoy a fine glass of wine on our rooftop terrace with spectacular views of the cathedral.
Gold
Text overlapping Image(s) from the left
Come join us
Come join us; our bar, rooftop terrace and breakfast lounge are open to non-hotel guests too. Get your fizz on with a glass of champagne in our understated but trendy lounge bar before a night on the town. Enjoy a nightcap in our comfortable, chic living room or simply come and enjoy the fine art on our walls. Discover our Bar menu here.
Image(s) left & Text right, next to each other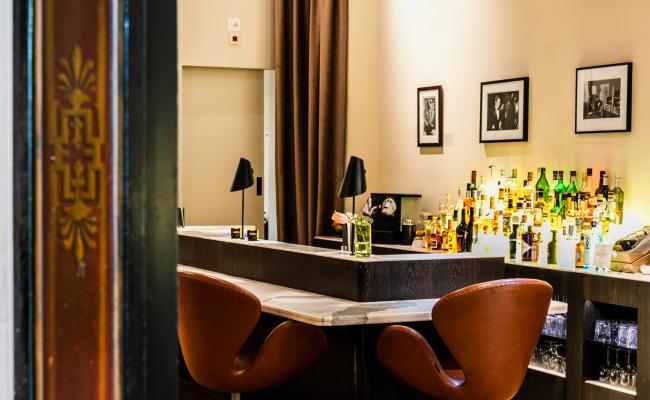 Luscious green spaces
The luscious green spaces and inner courtyards of Hotel Julien call out to you; come and unwind after a long day at work (or play) in our intimate setting.
Grey
Image (first one) as background with Text overlaying on the left

Day and night
Our living spaces have been designed to welcome you and your friends day and night. We are open to non-hotel guests too and we look forward to showing you what simply divine design and personal service is all about!
White
Text left & Image(s) right, next to each other
Breakfast at Hotel Julien
White
Image(s) left & Text right, next to each other
Meetings & events
Whether it's work or play that brings you to Hotel Julien, we look forward to having you. Our bright and airy function room overlooks the luscious green courtyard and offers all the facilities you could need for your meeting or presentation.
Grey
Text left & Image(s) right, next to each other